YOKO NISHII, pianist|JAPAN
---
YOKO NISHII was born in Ise, Japan.
She began to play the piano at the age of 4.
After graduating from "Keio University" in Tokyo for studies of French literature in 1998, she entered Music Academy "Ino Mirkovic" situated in Lovran, Croatia with full scholarship for 2 years.
She finished the academic program in only 2 years of studies (normally it lasts 4 years) and graduated with excellent grades under prof. Evgeny Zarafiants in 2000.
In July 2001, she got gMaster of Music Arth degree. Also she often worked as accompanist in gFlute Master Classh held in the same academy by prof. Pierre-Yves Artaud from Paris.
From 2001 to 2003, she worked as assistant in the piano class of prof. E.Zarafiants in the same academy.
From 2005 to 2007 she did advanced study at Zagreb Music Academy as the fellowship under the Japanese Government Overseas Program for Artists.
Until now she studied with prof.Mitsuko Tomio, prof.Naofumi Kaneshige, prof.Kyoko Ogawa, prof.Hitoshi Kobayashi and prof.Evgeny Zarafiants.
Currently she is a part-time lecturer at Aichi University of the Arts in Japan.

Winner and finalist at numerous international competitions.
She has given numerous solo recitals and various concerts as soloist, accompanist and chamber music player in Croatia (46 solo recitals in 24 cities and towns), Slovenia, Montenegro, Italy, Hungary and Japan.
She has also performed with the Zagreb Philharmonic Orchestra (cond.:Leonid Nikolaev) in Croatia (Zagreb, Opatija) and the Cuban National Symphonic Orchestra in Cuba (Habana).

She works hard on research and dissemination of Croatian and other Ex-Yugoslavian composers and music.
In February 2015 she has published a set of 2 CDs which includes the complete solo piano works of Dora Pejacevic from Japanese CD label "Herb Classics" on her 130th birth anniversary.

yRecent activitiesz
In 2012 - she held the concert of the complete piano works of Dora Pejacevic as a project "the Cultural Transmission from Ise to the World" in Ise, Japan.

In 2013 - in June she held the Public Recording Concert titled gtouring Croatian Musich organized by PTNA (Piano Teachersf National Association of Japan) presenting pieces by Ferdo Livadic, Blagoje Bersa, Josip Slavenski and Dora Pejacevic. In July she gave a concert at Vinkovci celebraing the 20th anniversary of diplomatic relations between Croatia and Japan, also a concert at Rijeka at the international gDino Cianih Piano Master Classes and Festival, and 2 concerts at Rome Summer Festival. In October she held the Public Recording Concert titled gPiano works by Dora Pejacevic`A flower which bloomed at the turn of the century`on the 90th anniversary of her death" organized by PTNA.

In 2014 - in May she held Duo Concert at Tokyo with Goran Koncar (Vn). In July she gave a concert by All-Pejacevic program on Dorafs own Bluthner piano in her memorial room in the Native Museum (the Pejacevic familiy palace) in Nasice, and also in the Euphrasian Basilica in Porec as well as at Vinkovci.

In 2015 - in February she has published a set of 2 CDs which includes the complete solo piano works of Dora Pejacevic from Japanese CD label "Herb Classics" and in September she held 11 concerts-tour in Croatia on the 130th birth anniversary of Dora Pejacevic starting with the concert at the residence of Japanese ambassador at Zagreb. She held concerts titled gFin de Siecle in Wien and Croatiah at Beppu in November and at Oita in December on the occation of opening exhibition vol.2 gDawn of Godsh at Oita Prefectual Art Museum (OPAM).

In 2016 - in March she was invited as a Jury member at the 2nd International Piano Competition gMemorijal Jurica Muraih at Varazdin, Croatia and also gave the humanitarian concert for the blind in the presence of their guide dogs which was organized by Japanese Embassy in cooperation with Croatian Society for Training Guide Dogs and for Mobility during the Japanese Culture Week at the hotel Westin at Zagreb, Croatia. In September she held 8 concerts-tour in Croatia, Montenegro and Hungary. The concert in Budapest was held at the museum of Music History co-organized by Croatian Embassy and Japanese Embassy in Hungary and there she performed on Bartokfs own Boesendorfer Imperial piano.

In 2017 - in January she gave a concert at Croatian Embassy in Japan on the occation of the 25th Anniversary of the International Recognition of the Republic of Croatia. In September she had 6 concerts-tour in Croatia including concerts at Mimara Museum in Zagreb and at Academy of Arts in Split both organized by Japanese Embassy in Croatia.

In 2018 - in March she published CD gFranjo Krezma: Reverie - Miniatures for violin and pianoh with Kresimir Marmilic (Vn) from Croatian CD label gNOTA BENE Recordsh and held 9 Duo concerts-tour in Croatia.


---
Copyright©YOKO NISHII WEBSITE ENGLISH. All Rights Reserved.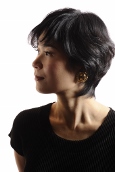 photo:M.Mitsuya
hair&make-up:Y.Okamoto